Dermatoscopes are an essential workhorse for any dermatologist in analysing the primary morphology and colour of microscopic subsurface skin structures that are not readily visible to the naked eye. 
In 2018, Canfield Scientific acquired the leading German dermoscopy company VisioMed AG. With the addition of the most advanced dermoscopy R&D team, Canfield expanded its imaging portfolio to continue delivering only the best in medical imaging and photography.
So what enhancements have Canfield introduced to the dermoscopy world? Here are the three latest dermatoscopes that put themselves above their league.
The Canfield D200EVO is the next generation dermatoscope for early diagnosis of skin cancer and skin lesion documentation. Among its peers, the D200EVO sets a new standard in dermoscopy with its high-tech features that add value to your practice. Here are 4 D200EVO highlights that make it the most advanced dermatoscope in Dermatology.
            1. User Experience First
The D200EVO's built-in interactive touchscreen allows control of not only crystal clear magnification and consistent lighting, but with Canfield's proprietary DermaGraphix® software, also delivers fast and repeatable lesion management to your practice. Analyse, capture and track lesions at your fingertips. 

            2. Standardised Image Capture
When it comes to clinical photography solutions, Canfield is the global leader in delivering high quality standardised image capture. With years of clinical research under its belt, you can be confident that the images you see, and capture, are consistent and reliable for returning consultations or even for your research. Consistency is very helpful when tracking lesion shapes and sizes of your patient's skin.

            3. High-Definition Magnification
The magnification capability of the D200EVO produces brilliant epiluminescence microscopy. Experience high definition microscopic views up to 200x magnification at 6MP resolution through the built-in touchscreen at the very first point of contact.
            4. Lesion Body Mapping with DermaGraphix®
Canfield's DermaGraphix® is a proprietary body-mapping software that will redefine and enhance your processes. The body map function enables you to start documenting lesions immediately, consistently and systematically. Once each lesion has been captured, you can track individual lesions based on its characteristics, like colour, structure, size and level of attention needed for follow-ups. Canfield is the first and only company to effectively computerise lesion tracking for Dermatology.
Enjoy high-quality magnification with other Canfield dermatoscopes that operates without DermaGraphix®.
The OPTIMA is a unique examination magnifier that offers much more its plain exterior. 
            1. Natural Daylight Spectrum Lighting  
The type of magnification light used is crucial in the examining changes in the skin. Unlike similar magnifiers, the light that the Optima produces is consistent and near true colour, close to daylight. This is achieved with the 96 microprocessor-controlled LEDs and polarised optical filters to avoid any glare. 

            2. UV/Wood's Light Examination
Wood's Lamp examination is essential in every dermatological practice. While it is common for dermatoscopes to offer cross and non-polarised light, Canfield has included the UV light function into the Optima 3-in-1. With four high-output 365nm UV LEDs, you can visualise superficial pigment and skin auto-fluorescence, and examine bacterial, parasitic, or fungal skin infections without the need to switch between devices.
            3. Distortion-Free Magnification
At 94mm wide field of vision, the Optima can boast of its large lens with a distortion-free view.

            4. Additional Accessories
The Optima also comes with a handy protective cover made of robust nylon and an optional charging station.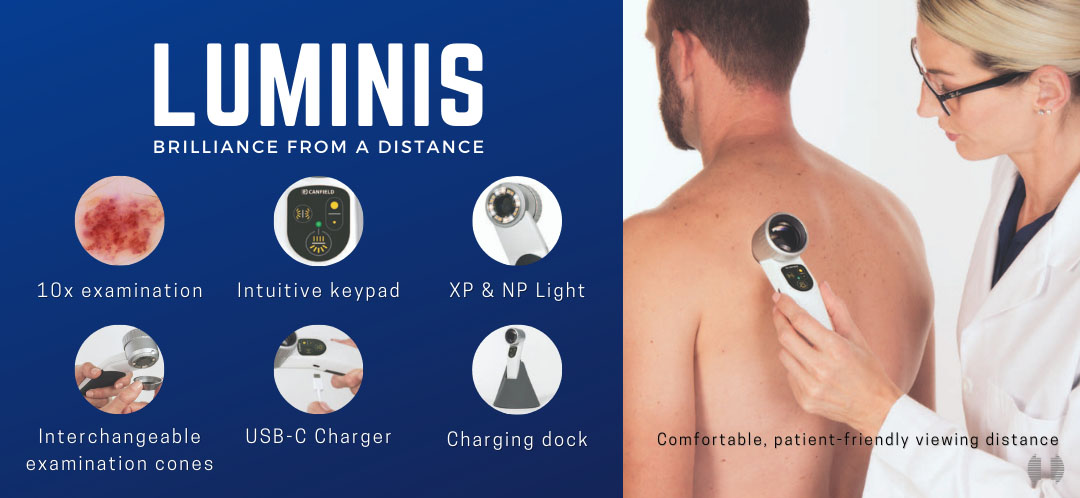 If you are looking for a compact yet powerful dermatoscope with strong daylight capability, the Luminis might just be the one for you. 

            1. Light Matters
The brightness of your dermatoscope light is important in accurately assessing skin colour changes in all melanoma and non-melanoma differential-diagnostic procedures. The Luminis is the only hand-held dermatoscope that offers the daylight chromatic spectrum.
Conventional dermatoscopes with cold white LED or reddish lamp light often "hide" important colour information. With Luminis, at the push of a button, you can toggle between natural white light that is comprised of natural reds and blues similar to daylight, or the controlled shift of colour temperature into the polarized light spectrum to emphasize blood vessels or pigments. 
Even at low battery, the light quality is maintained to a uniformed value.

            2. Ergonomic Control
The ergonomically designed body of the Luminis permits comfortable single-hand use and operation of the button keypad. This intuitive keypad determines the light mode, intensity and raked lighting. 

            3. Undistorted Magnification & Focused Light
Built with the highest quality German precision optics and paired with newly improved microprocessors, the high magnification permits an excellent view of all lesion details without any edge distortion, even from a 20 cm distance. With the push of a button, the focused illumination option reveals all structural characteristics of the skin.

            4. Distant Yet Focused
Direct eyepiece contact can be uncomfortable for both you and your patient. That is why the Luminis is built with non-contact examination in mind. At a comfortable distance of 20cm, the maximized field of vision allows a patient-friendly examination of lesions at true 10X magnification. 
For examiners who wear glasses, the Luminis has a visual acuity corrector that is adjusted with the diopter.
Looking to upgrade your current dermatoscopes or currently in the market for one? Let us help you. Click here to get in touch with us now.
The 100th Magnetolith® from Storz Medical is now in the possession of Dr Damian Görner, orthopaedic and trauma surgeon from the Steglitz Spine and Joints Centre, Berlin! Dr Görner has been using ESWT for years and decided to add the Magnetolith® extracorporeal magnetotransduction therapy (EMTT®) to his practice. He believes the EMTT® [...]
Shock waves are high-energy acoustic waves that are introduced into bodily tissue via the surface of the skin. This increases metabolic activity in the treatment zone, and healing processes are stimulated or accelerated. Depending on the setting, solid structures (e.g. calcifications) can also be effectively treated this way. In this article, Dr Nikolaos Barotsis [...]