Innomed recently participated in the International Society of Aesthetic Plastic Surgery (ISAPS) 2018 in Ho Chi Minh City, Vietnam, showcasing Canfield®'s top of the line 3D imaging systems and Crystal Tomato® Carotenoids supplements, both made in the USA.
We spent time with plastic surgeons introducing our Vectra H1 and H2 for Face, Breast and Body, as well as our Visia Skin Complexion Analysis System to dermatologists and other professionals in the skincare industry. At ISAPS, doctors were able to get a hands-on experience with our Vectra and Visia systems. The popular features of the Vectra include its ability to provide automated measurements, as well as its hyper-realistic 3D images as compared to other competitors. Visia also remains a crowd favourite for its clarity and accuracy, both in dermal and epidermal images. This is due to Canfield®'s proprietary RBX technology, which enables the visualization of conditions related to hyperpigmentation, inflammation, spider veins and other conditions.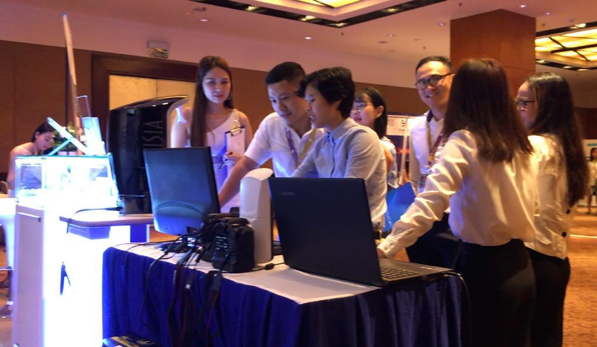 Canfield®'s proprietary RBX algorithm can track, mark and analyze these conditions that result in colour concentration, and produce a severity score to rate patients' skin conditions, allowing for effective planning and tracking of recommended treatments results. IntelliFlash®, cross-polarized and UV lighting are used to record and measure surface and subsurface skin conditions. Having Canfield in the practice allows for enhanced communication with patients, increased consultations, conversions and patient satisfaction. These state-of-the-art systems help patients realize the true state of their skin and what needs to be done to improve it. For example, the clinic could prescribe skin rejuvenation treatments, acne treatments, or even Crystal Tomato® for skin whitening and pigmentation problems.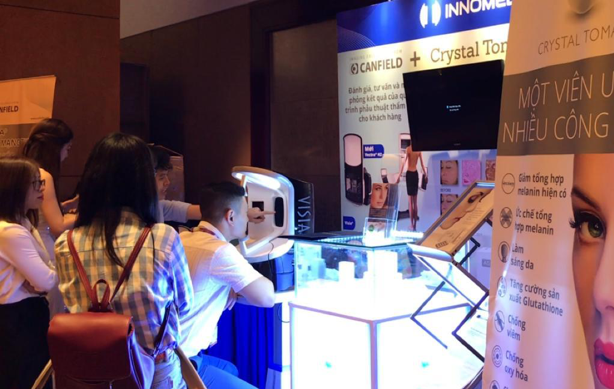 We are also pleased to announce that Crystal Tomato® is now officially back in Vietnam. Among the questions we received at the conference was, what is the percentage of Gluthathione available in Crystal Tomato® It is important to note that although Glutathione is commonly found in other oral whitening supplements, it is not absorbed when taken orally and has no effect on the skin.1 Crystal Tomato® contains L-Cysteine, a natural precursor to Glutathione. Studies prove that when L-Cysteine is introduced to the body, the natural mechanisms in the body are activated to produce its own Glutathione to improve the appearance of the skin.2
Crystal Tomato® is made from 100% natural ingredients and has been scientifically proven to produce many benefits for the skin. Just by taking one pill a day, it inhibits and reduces existing melanin synthesis, acts as a natural sunscreen, and provides anti-oxidant benefits. The supplement is not only a safe and convenient way to beautiful skin but has also become a must-have for maintaining and protecting skin quality.
Crystal Tomato® is the preferred supplement for whitening, melasma, pigmentation and dark spots in the region. National Skin Centre Singapore carried out a clinical trial, proving that Crystal Tomato®'s products showed significantly better results than the industry's most well-known whitening agents.*Aesthetic Medical professionals in Vietnam can now look forward to authentic and genuine Crystal Tomato® made by Gromark and proudly distributed by Innomed Vietnam.
Established in Vietnam since 2005, Innomed Vietnam prides itself in promoting evidence-based products that provide innovative and effective solutions along with a high level of comfort, safety, efficacy, ease-of-use and reliability. To find out more about Crystal Tomato®, please visit our website. To request for a Canfield demo at your practice, please contact us here.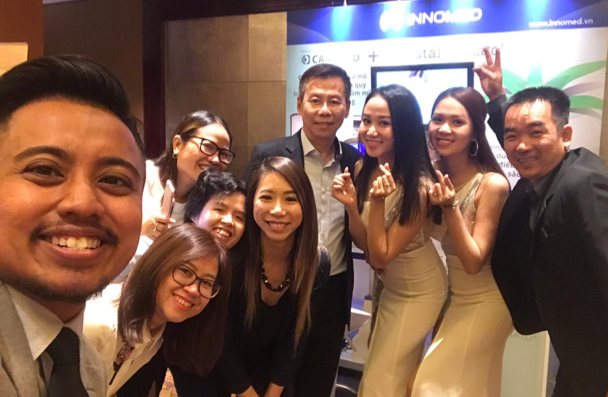 In June 2019, we were given the opportunity to attend a training course at Canfield Scientific's HQ in the USA. We would like to thank Canfield Scientific for their wonderful hospitality, and the beneficial training during our time there. Here's to many more years of friendship and cooperation together! [...]
Innomed Asia will be at the National Physiotherapy Conference on 23 – 24 March 2019 at Vistana Kuala Lumpur, Malaysia. Featuring the Masterpuls MP100 Ultra, and Duolith SD1 Ultra at the conference, we welcome you to test drive the latest innovations in shockwave technology by Storz Medical. Our product specialists will help you identify the difference between [...]