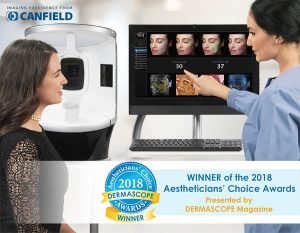 Conducted by Dermascope Magazine, VISIA Complexion Analysis System was voted as the winner of the 2018 Aestheticians' Choice Awards.
VISIA Complexion Analysis System delivers clinical quality images, and its 3D viewer makes it easier to clearly relay aesthetic procedures like skin resurfacing, skin tightening, skin rejuvenation, and others to your patients.
With the ability to provide 8 different in-depth skin complexion analysis elements, VISIA is the only complexion analysis with a rotating image capture module for faster & more comfortable capturing session. The award-winning VISIA delivers a state-of-the-art skin care consultation experience for your patients.
As compared to other systems, the updated software in VISIA allows a faster image capture, further refining the detection of your patient???s facial feature, and automatically classify skin types.
Learn more about VISIA here.
Contact us to schedule a demo at your practice today.
Dermatoscopes are an essential workhorse for any dermatologist in analysing the primary morphology and colour of microscopic subsurface skin structures that are not readily visible to the naked eye.  In 2018, Canfield Scientific acquired the leading German dermoscopy company VisioMed AG. With the addition of the most advanced dermoscopy R&D team, Canfield expanded [...]
The 100th Magnetolith® from Storz Medical is now in the possession of Dr Damian Görner, orthopaedic and trauma surgeon from the Steglitz Spine and Joints Centre, Berlin! Dr Görner has been using ESWT for years and decided to add the Magnetolith® extracorporeal magnetotransduction therapy (EMTT®) to his practice. He believes the EMTT® [...]